Tsar Nicholas II Russian Imperial Duma July Crisis 1914 Extraordinary Meeting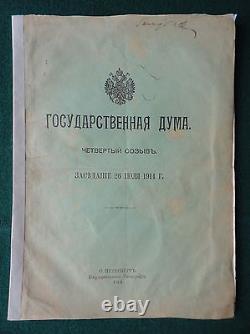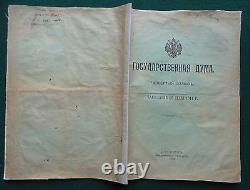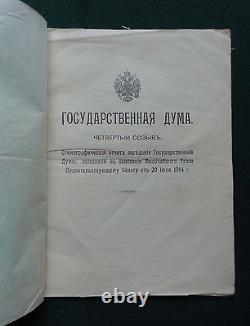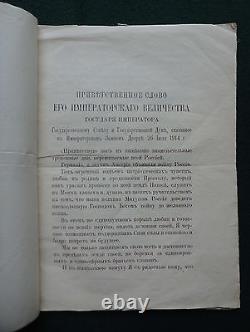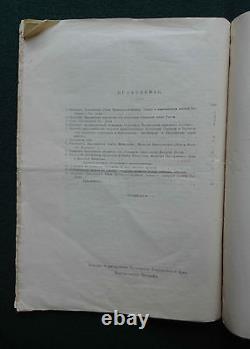 Bibelotslondon Ltd is a UK registered company based in London Bridge dealing in ephemera and curiosities from Britain and around the world. Our diverse inventory is carefully chosen and constantly evolving. We work very hard to offer the highest quality works at competitive prices. Our inventory is listed online, and we strive to keep our website completely up to date, so our customers can easily check availability. We believe in offering clients items that are unique and rare for aficionados of the antique and collector's world. Bibelot is a late nineteenth century word derived from the French word bel'beautiful', meaning a small item of beauty, curiosity or interest. The word ephemera is derived from the sixteenth century Greek word ephmera meaning a printed or hand written paper not meant to be retained for a long period of time. Rare copy of the proceedings of the 4th Imperial Russian Duma under Tsar Nicholas preceeding the outbreak of World War I, dated 26th July 1914, published by the Government Printers in St. Petersburg, 38 pages, printed with the Russian imperial double headed eagle on the front cover. On 1st July 1914 the Tsar suggested that the Duma should be reduced to merely a consultative body, but an extraordinary session was held on 26 July 1914 during the July Crisis, a diplomatic crisis among the major powers of Europe in the summer of 1914 that led to World War I.
On 28th June immediately after Gavrilo Princip, a Slavic nationalist, assassinated Archduke Franz Ferdinand, heir presumptive to the Austro-Hungarian throne in Sarajevo, a series of diplomatic maneuverings led to an ultimatum from Austria-Hungary to the Kingdom of Serbia, and eventually to war. It was during this meeting that all parties except the Social Democrats and Labour group agreed in the overriding need for national unity and promised the government unswerving support and allowed the house to be prorogued. Size: 29.5 x 22 cm approx. Photos form part of the description. This item is in the category "Collectables\Historical Memorabilia\Royalty Collectables".
The seller is "bibelotslondon" and is located in this country: GB. This item can be shipped worldwide.
Country/Region of Manufacture: Russian Federation
To Commemorate: World War I
Theme: Royalty
Royal/ Reign: Non-UK Royalty
Type: Booklet
Year: 1914
Features: Antique
Vintage: Yes
Manufacturer: Russian Imperial Government
Royal: Tsar Nicholas II
Royalty: Russian Royalty

---