Russian Royalty Signed Royal Document Queen Marie Romania Russia Grand Duchess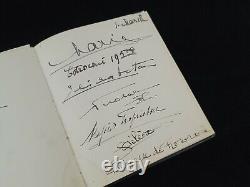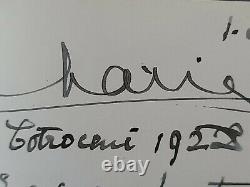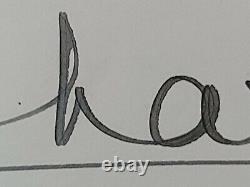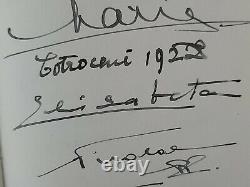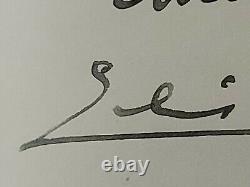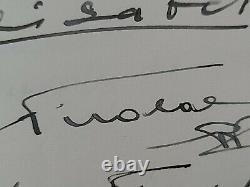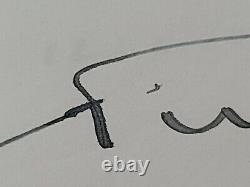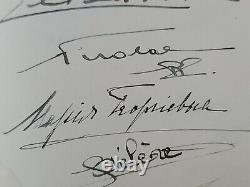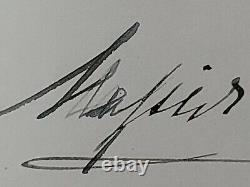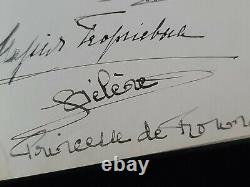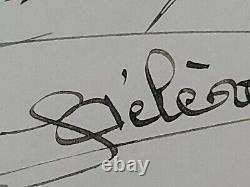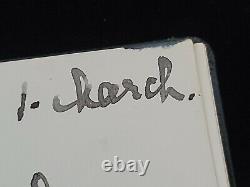 For your consideration is an exceedingly rare and historically important c. 1928 Imperial Russian Royalty autograph album page, hand-signed by HM Queen Marie of Romania, HRH Princess Elisabeth of Romania, HRH Prince Nicholas of Romania, HRH Princess Maria Georgyevna of Greece / Denmark (Russian Grand Duchess), and HRH Princess IIeana of Romania. Very rare grouping on one page. Royalty autographs / signatures are manuscript in black ink. Minor water stain to lower left hand corner of paper, as pictured. Page will be carefully removed from album.
Album page measures approximately 5.5" × 6.5". Marie of Romania (born Princess Marie Alexandra Victoria of Edinburgh; 29 October 1875 - 18 July 1938) was the last Queen of Romania as the wife of King Ferdinand I.
Elisabeth of Romania full name Elisabeth Charlotte Josephine Alexandra Victoria: Romanian: Elisabeta a României, Greek:??? Prince Nicholas of Romania (Romanian: Principele Nicolae al României; 5 August 1903 - 9 June 1978), later known as Prince Nicholas of Hohenzollern-Sigmaringen, was the fourth child and second son of King Ferdinand I of Romania and his wife Queen Marie. Princess Maria of Greece and Denmark Greek:? 20 February 1876 - 14 December 1940 was a daughter of King George I of Greece and his wife Grand Duchess Olga Constantinovna of Russia. She was a sister of King Constantine I of Greece and a first cousin of Tsar Nicholas II of Russia.
Born as a princess of Greece and Denmark, she was educated in Athens by private tutors. Her father instilled in her a great love for Greece and throughout her life, she remained a fervent patriot. She married Grand Duke George Mikhailovich of Russia, her first cousin once removed, who courted her for five years. The wedding took place in 1900 in Corfu. The couple settled in St.
Petersburg and they had two daughters: Princesses Nina (1901 -1974) and Xenia of Russia (1903 -1965). Grand Duke George Mikhailovich had a house built for her in Crimea and he was a devoted father and husband, but the marriage was unhappy.
Princess Maria, known upon her marriage as Grand Duchess Maria Georgievna of Russia, neither got to love her husband nor her adopted country. Longing for her native Greece, she never adapted to life in Russia.
Over the years, she became estranged from her husband taking any opportunity to spend time abroad. At the outbreak of World War I, she was vacationing in England with her daughters and chose not to return to Russia.
During the conflict, she was a patron of three military hospitals in Harrogate, which she financed generously. Her husband was trapped in Russia after the revolution and he was shot by the Bolsheviks with several other Romanov relatives in January 1919. In her widowhood, deprived of her Russian income, Princess Maria faced serious financial difficulties. They were married in 1922. The proclamation of the Second Hellenic Republic in 1924, sent her into exile.
She lived in Italy for over a decade until the outbreak of the Greco-Italian War in 1940 forced her to return to her native Greece. She was in poor health and was cared for by her nephew King Paul of Greece and his wife Frederica. She died, as the Greek royal family was about to leave for exile. She left a book of memoirs, published posthumously by her grandchildren with the title A Romanov Diary. Princess Ileana of Romania, also known as Mother Alexandra (5 January 1909 - 21 January 1991), was the youngest daughter of King Ferdinand I of Romania and his consort, Queen Marie of Romania. She was a great-granddaughter of Queen Victoria of the United Kingdom, Emperor Alexander II of Russia, King Ferdinand II and Queen Maria II of Portugal. She was born as Her Royal Highness Princess Ileana of Romania, Princess of Hohenzollern-Sigmaringen. This item is in the category "Collectibles\Historical Memorabilia\Royalty Collectibles". The seller is "galleryoff5th" and is located in this country: US. This item can be shipped worldwide.
Royal: Queen Marie of Romania
To Commemorate: Coronation
Type: Royal Document
Royalty: Romania
Year: 1928
Country: Romania
Theme: Royalty
Features: Antique, Illustrated, Official Release
Country/Region of Manufacture: Russian Federation
Modified Item: Yes
Vintage: Yes

---