Russian Imperial Gold Picture Frame, Tsariza Alexandra Feodorovna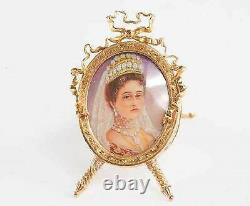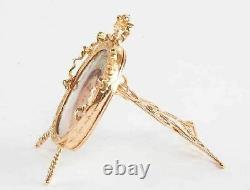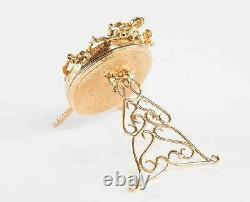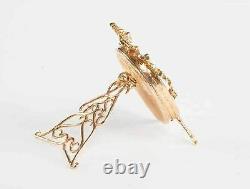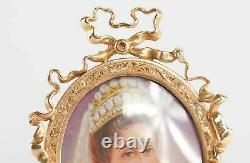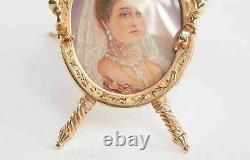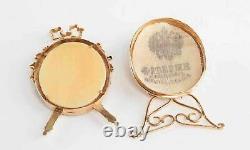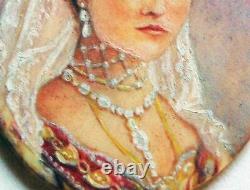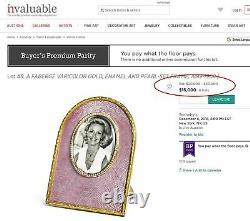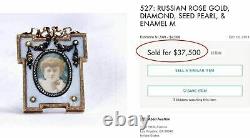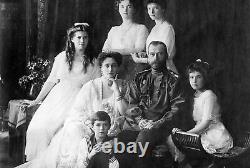 FABERGE - Russian Imperial GOLD Picture Frame, Tsariza Alexandra Feodorovna. Basket weave design with easel back, fitted with a hand painted portrait of Tsariza Alexandra Feodorovna - wife of Nicholas 2nd. 8 cm (3 1/8 inches).
It is a UNIQUE frame - Faberge did only 2 miniature frames with hand painted portrait of tzsariza Alexandra Feodorovna!! Our item has hand painted portrait made by artist Vasilu Zuyev.
Vasilu Zuyev was one of the two licensed artist who made portrait of Nicholas 2nd in Faberge workshop! PAY in PARTS : You can pay for any item during 2 - 3 months.
Just make a deposit 10% and the item will wait for you. WIKIPEDIA : Alexandra Feodorovna (6 June 1872 17 July 1918) was Empress of Russia as the spouse of Nicholas II - the last ruler of the Russian Empire - from their marriage on 26 November 1894 until his forced abdication on 15 March 1917. Originally Princess Alix of Hesse and by Rhine at birth, she was given the name and patronymic Alexandra Feodorovna upon being received into the Russian Orthodox Church and - having been killed along with her immediate family while in Bolshevik captivity in 1918 - was canonized in 2000 as Saint Alexandra the Passion Bearer.
A granddaughter of Queen Victoria of the United Kingdom, Alexandra was, like her grandmother, one of the most famous royal carriers of the haemophilia disease. Her reputation for encouraging her husband's resistance to the surrender of autocratic authority and her known faith in the Russian mystic, Grigori Rasputin, severely damaged her popularity and that of the Romanov monarchy in its final years. Tuesday, 16 July 1918 passed normally for the former imperial family.
At four o'clock in the afternoon, Nicholas and his daughters took their usual walk in the small garden. Early in the evening Yurovsky sent away the fifteen-year-old kitchen boy Leonid Sedinev, saying that his uncle wished to see him. Yurovsky summoned all the Cheka men into his room and ordered them to collect all the revolvers from the outside guards. With twelve heavy military revolvers lying before him on the table he said, Tonight, we shoot the entire family, everybody. Upstairs Nicholas and Alexandra passed the evening playing bezique; at ten thirty, they went to bed.
The former tsar and tsaritsa and all of their family, including the gravely ill Alexei, along with several family servants, were executed by firing squad and bayonets in the basement of the Ipatiev House, where they had been imprisoned, early in the morning of 17 July 1918, by a detachment of Bolsheviks led by Yakov Yurovsky. In the basement room of the Ipatiev House, Alexandra complained about how there were no chairs, therefore Nicholas asked for and received three chairs from the guards. Minutes later, at about 2:15 a. A squad of soldiers, each armed with a revolver, entered the room. Their leader Yurovsky ordered all the party to stand; Alexandra complied "with a flash of anger", and Yurovsky then casually pronounced, Your relations have tried to save you. They have failed and we must now shoot you. " Nicholas rose from his chair and only had time to utter "What... Before he was shot several times, not (as is usually said) in the head, but in the chest; his skull bears no bullet wounds, but his ribs were shattered by at least three fatal bullet wounds. Standing about six feet from the gunmen and facing them, Alexandra watched the murder of her husband and two menservants before military commissar Peter Ermakov took aim at her. She instinctively turned away from him and began to make the sign of the cross, but before she could finish the gesture, Ermakov killed her with a single gunshot which, as she had partly turned away, entered her head just above the left ear and exited at the same spot above her right ear. After all the victims had been shot, Ermakov in a drunken haze stabbed Alexandra's body and that of her husband, shattering both their rib cages and chipping some of Alexandra's vertebrae.
The item "RUSSIAN IMPERIAL GOLD PICTURE FRAME, TSARIZA ALEXANDRA FEODOROVNA" is in sale since Tuesday, December 25, 2018. This item is in the category "Antiques\Silver\Non-U.
The seller is "ww2_army" and is located in Blaine, Washington. This item can be shipped worldwide.

---