Rare Royal Imperial Russian Grand Duchess Elena Romanov Princess Signed Letter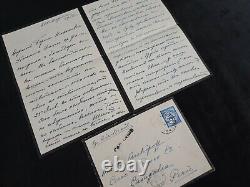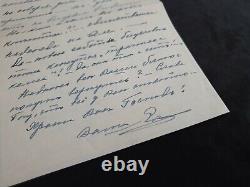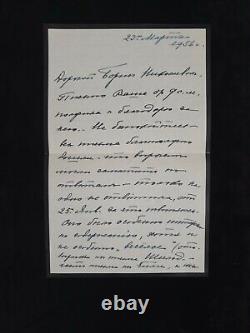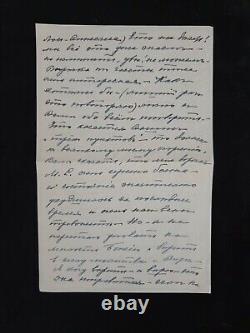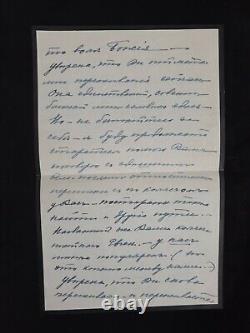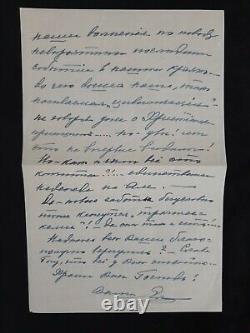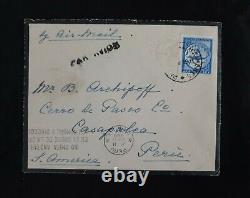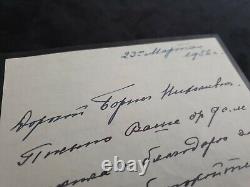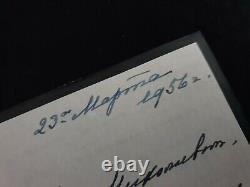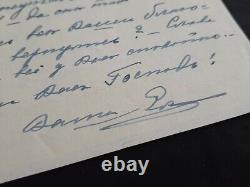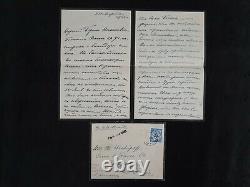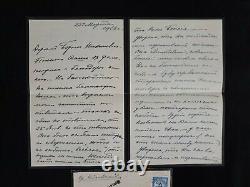 For your consideration is a rare antique Imperial Russian Grand Duchess Romanov Princess Greece Signed Letter. Grand Duchess Elena Vladimirovna of Russia (29 January 1882 - 13 March 1957), sometimes known as Helen, Helena, Helene, Ellen, Yelena, Hélène, or Eleni, was the only daughter and youngest child of Grand Duke Vladimir Alexandrovich of Russia and Duchess Marie of Mecklenburg-Schwerin.
Her husband was Prince Nicholas of Greece and Denmark and they were both first cousins of Emperor Nicholas II of Russia. She was also first cousin of Queen Juliana of the Netherlands and Alexandrine of Mecklenburg-Schwerin, Queen consort of Denmark. Elena and her three surviving older brothers, Kirill, Boris, and Andrei, had an English nanny and spoke English as their first language. The young Elena had a temper and was sometimes out of control. At four years old, she posed for the artist Henry Jones Thaddeus.
She grabbed a paper knife and threatened her nurse, who hid behind Thaddeus. "The little lady then transferred her attentions to me, her black eyes ablaze with fury, " recalled Thaddeus. Elena, raised by a mother who was highly conscious of her social status, was also considered snobbish by some.
"Poor little thing, I feel sorry for her, " wrote her mother's social rival, Dowager Empress Maria Feodorovna, for she is really quite sweet, but vain and pretty grandiose. She was initially engaged to Prince Max of Baden, but Max backed out of the engagement. Elena's mother was furious and society gossiped about Elena's difficulty in finding a husband. At one point in 1899, the seventeen-year-old Elena was reputedly engaged to Archduke Franz Ferdinand of Austria, however this came to nothing as he fell in love with Countess Sophie Chotek.
Prince Nicholas of Greece and Denmark, the third son of George I of Greece, first proposed in 1900, but Elena's mother was reluctant to allow her daughter to marry a younger son with no real fortune or prospects of inheriting a throne. She finally agreed to let Elena marry Nicholas, who was Elena's second cousin through his mother Olga Constantinovna of Russia and her father Vladimir Alexandrovich of Russia, in 1902 after it became clear that no other offers were on the horizon. The couple married on 29 August 1902 in Tsarskoye Selo, Russia. Like many imperial weddings, it was a grand affair, and was attended by the Emperor and Empress of Russia, the King and Queen of the Hellenes, among other royals and nobility of Russia. Elena's "grand manner" irritated some people at court.
According to the British diplomat Francis Elliot, there was an incident between Elena and her sister-in-law Princess Marie Bonaparte: Allegedly, Elena refused to greet Marie and drew back her skirts as if not to be touched by her. Elena thought that Marie was beneath her, because her grandfather operated the Monte Carlo Casino. Elena looked down on another sister-in-law Princess Alice of Battenberg because of the latter's morganatic blood. The Dowager Empress wrote that Elena has a very brusque and arrogant tone that can shock people.

---