Imperial Russian Army Baron General Pyotr Nikolayevich Wrangel Signed Document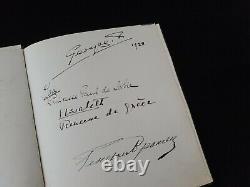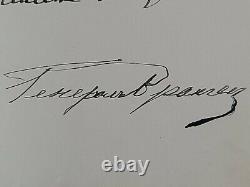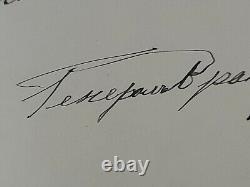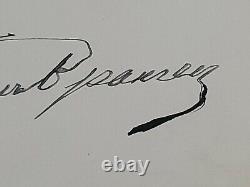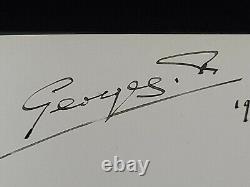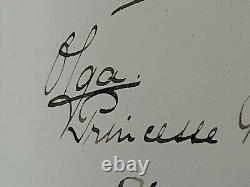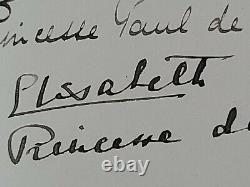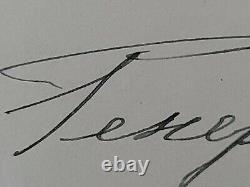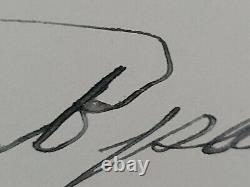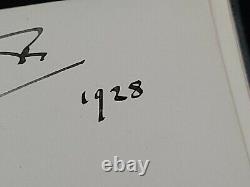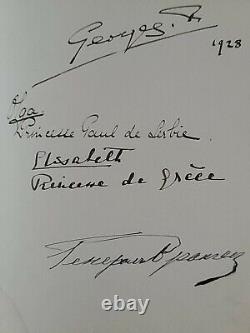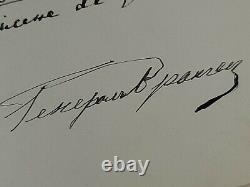 For your consideration is an exceedingly rare and historically important c. 1928 Imperial Russian Royalty autograph album page, hand-signed by Imperial Russian Royal Baron General Pyotr Nikolayevich Wrangel, HM King George II of Greece, HRH Princess Olga of Serbia / Yugoslavia / Denmark / Greece, and HRH Princess Elizabeth of Greece. Royalty autographs / signatures are manuscript in black ink. Minor water stain to lower left hand corner of paper, as pictured.
Page will be carefully removed from album. This is likely General Wrangel's last known autograph prior to his death in 1928. Album page measures approximately 5.5" × 6.5". August 15 1878 - April 25, 1928, also known as Peter von Wrangel, was a Russian officer of Baltic German origin in the Imperial Russian Army.
During the later stages of the Russian Civil War, he was commanding general of the anti-Bolshevik White Army in Southern Russia. After his side lost the civil war in 1920, he left Russia. He was known as one of the most prominent exiled White émigrés and military dictator of South Russia (as commander in chief). Princess Olga of Greece and Denmark Greek:???
A; 11 June 1903 - 16 October 1997 was a Greek princess who became princess of Yugoslavia as the wife of Prince Paul, Regent of the Kingdom of Yugoslavia. , Geórgios II; 19 July O. 7 July 1890 - 1 April 1947[2] was King of Greece from September 1922 to March 1924 and from November 1935 to his death in April 1947. The eldest son of King Constantine I and Sophia of Prussia, George followed his father into exile in 1917 following the National Schism, while his younger brother Alexander was installed as king.
Constantine was restored to the throne in 1920 but was forced to abdicate two years later in the aftermath of the Greco-Turkish War. George acceded to the Greek throne, but after a failed royalist coup in October 1923 he was exiled to Romania. Greece was proclaimed a republic in March 1924 and George was formally deposed and stripped of Greek nationality. The king supported Ioannis Metaxas's 1936 self-coup, which established the authoritarian, nationalist and anti-communist 4th of August Regime.
Greece was overrun following a German invasion in April 1941, forcing George into his third exile. He left for Crete and then Egypt before settling in London, where he headed the Greek government-in-exile. He died of arteriosclerosis in April 1947 at the age of 56. Having no children, he was succeeded by his younger brother, Paul. Princess Elizabeth of Greece and Denmark Greek:??? ßet; 24 May 1904 - 11 January 1955 was the middle daughter of Prince Nicholas of Greece and Grand Duchess Elena Vladimirovna of Russia. Princess Elizabeth was born on 24 May 1904 at the Tatoi Palace just north of Athens, Greece, during the reign of her paternal grandfather, King George I.
She was the second daughter of Prince Nicholas of Greece and Denmark, and his wife Grand Duchess Elena Vladimirovna of Russia. Her father was the third son of King George I and Queen Olga of Greece, while her mother was the only daughter of Grand Duke Vladimir Alexandrovich and Grand Duchess Maria Pavlovna of Russia. Her father was a grandson of King Christian IX of Denmark, while her mother was a granddaughter of Emperor Alexander II of Russia. Princess Elizabeth had two sisters, an older sister Princess Olga and a younger sister Princess Marina. Princess Olga married Prince Paul of Yugoslavia in 1923.
After the assassination of his cousin, King Alexander I, Paul served as Prince Regent of Yugoslavia from 1934 to 1941. Princess Marina married Prince George, Duke of Kent, in 1934. One of their paternal uncles was Prince Andrew of Greece and Denmark, the father of Prince Philip, Duke of Edinburgh (making Elizabeth and her sisters Philip's first cousins).
Her family nicknamed her'Woolly' because of her thick, dark brown hair. Princess Elizabeth was a keen horsewoman and painter.

---