Imperial Russian Antique Calling Card Murdered Grand Duke Sergei Romanov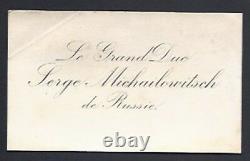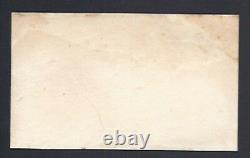 Bibelotslondon Ltd is a UK registered company based in London Bridge dealing in ephemera and curiosities from Britain and around the world. Our diverse inventory is carefully chosen and constantly evolving. We work very hard to offer the highest quality works at competitive prices. Our inventory is listed online, and we strive to keep our website completely up to date, so our customers can easily check availability.
We believe in offering clients items that are unique and rare for aficionados of the antique and collector's world. Bibelot is a late nineteenth century word derived from the French word bel beautiful, meaning a small item of beauty, curiosity or interest. The word ephemera is derived from the sixteenth century Greek word ephmera meaning a printed or hand written paper not meant to be retained for a long period of time. From the collection of Richard and Mary Winslow, English aristocrats who had the Villa Winslow in Cannes during the 1890s and were friends with aristocrats and royals from all over the world. Mary was a great beauty and had by family traditon once been a mistress of the Prince of Wales, later King Edward VII.
Cannes became a popular holiday destination with aristocrats from all over the world. The British and Russian particularly enjoyed their times there.
Queen Victoria visited in 1890 and Tsar Nicholas II in 1905/6, staying at the Villa du Parc. It was in Cannes in 1898 at the Villa Kasbek that the Prince of Wales met his mistress Mrs Alice Keppell.
Cannes had been popular with the Romanovs since the 1890s. Grand Duke Michael Mikhailovich in 1891 fell in love and married Countess Sophie von Merenberg.
She was the daughter of Prince Nikolaus Wilhelm of Nassau and his morganatic wife, née Natalie Alexandrovna Pushkin, a member of the minor Russian nobility. Sophies maternal grandfather was the renowned poet-author Alexander Pushkin; through him, she had black African ancestry as a direct descendant of Peter the Great's protégé, Abram Petrovich Gannibal. The grand duke met Sophie when he saved her from a horse that had run away with her. He did not bother to ask for the necessary permission for the marriage from the Tsar or his parents because he knew it would not be granted. They lived at the luxurious Villa Kazbek with their children. Grand Duke Serge was the fifth son and sixth child of Grand Duke Michael Nikolaievich of Russia and a first cousin of Alexander III of Russia. He was born and raised in the Caucasus, where his father was viceroy.
In 1881 the family moved to St Petersburg. He became a close friend of the then Tsarevich Nicholas. They grew apart upon Nicholas II's marriage and accession to the throne.
Grand Duke Sergei remained a bachelor living at his father palace in the imperial capital. He had a long affair with the famous ballerina Mathilde Kschessinska, who had previously been the mistress of Nicholas II. She was also later involved with Grand Duke Andrei Vladimorovich.
Sergei recognized Mathilde's son as his own and remained their protector until his death. Following family tradition, Grand Duke Sergei pursued a military career. He served as General Inspector of the Artillery with the rank of Adjutant General. During World War I he was chief of the artillery department, a position he was forced to resign amid controversy. He was then appointed Field Inspector General of Artillery at Stavka.
After the fall of the monarchy, he remained in the former Imperial capital keeping a low profile. With the ascension of the Bolshevist to power, he was sent to internal Russian exile. He was murdered by the Bolshevik along with several other Romanovs relatives and his personal secretary at Alapayevsk on 18 July 1918, one day after the murder of Tsar Nicholas II and his immediate family at Yekaterinburg.
Size: 9.5 x 6 cm approx. Photos form part of the description. The item "Imperial Russian Antique Calling Card Murdered Grand Duke Sergei Romanov" is in sale since Monday, March 12, 2018. This item is in the category "Collectables\Historical Memorabilia\Royalty Collectables". The seller is "bibelotslondon" and is located in London.
This item can be shipped worldwide.
Country/Region of Manufacture: Russian Federation
To Commemorate: Royal Visit
Theme: Royalty
Royal/ Reign: Non-UK Royalty
Type: Calling Card
Features: Antique
Vintage: Yes
Manufacturer: Russian Imperial Court
Royal: Tsar Nicholas II
Royalty: Russian Royalty

---