Grand Duke Michael Alexandrovich Romanov of Imperial Russia Antique Calling Card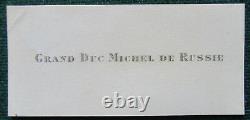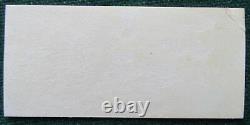 Bibelotslondon Ltd is a UK registered company based in London Bridge dealing in ephemera and curiosities from Britain and around the world. Our diverse inventory is carefully chosen and constantly evolving. We work very hard to offer the highest quality works at competitive prices. Our inventory is listed online, and we strive to keep our website completely up to date, so our customers can easily check availability. We believe in offering clients items that are unique and rare for aficionados of the antique and collector's world.
Bibelot is a late nineteenth century word derived from the French word bel'beautiful', meaning a small item of beauty, curiosity or interest. The word ephemera is derived from the sixteenth century Greek word ephmera meaning a printed or hand written paper not meant to be retained for a long period of time. "Grand Duc Michel de Russia" From the collection of Richard and Mary Winslow, English aristocrats who had the Villa Winslow in Cannes during the 1890s and were friends with aristocrats and royals from all over the world.
Mary was a great beauty and had by family traditon once been a mistress of the Prince of Wales, later King Edward VII. He was the youngest son and fifth child of Emperor Alexander III of Russia and youngest brother of Nicholas II. At the time of his birth, his paternal grandfather Alexander II was still the reigning Emperor of All the Russias.
Michael was fourth-in-line to the throne after his father and elder brothers Nicholas and George. After the assassination of his grandfather in 1881, he became third-in-line and, in 1894, after the death of his father, second-in-line.
George died in 1899, leaving Michael as heir presumptive. The birth of Nicholas's son Alexei in 1904 moved Michael back to second-in-line, but Alexei inherited the blood-clotting disorder haemophilia and was not expected to live. Michael caused a commotion at the imperial court when he took Natalia Sergeyevna Wulfert, a married woman, as a lover. Nicholas sent Michael to Orel to avoid scandal but this did not deter Michael, who travelled frequently to see his mistress. After the couple's only child, George, was born in 1910, Michael brought Natalia to St. Petersburg where she was shunned by society. In 1912, Michael shocked Nicholas by marrying Natalia in the hope that he would be removed from the line of succession.
Michael and Natalia left Russia to live in exile abroad in France, Switzerland and England. When Nicholas abdicated on 15 March O. 2 March 1917, Michael was named as his successor instead of Alexei. Michael, however, deferred acceptance of the throne until ratification by an elected assembly.
He was never confirmed as Emperor and, following the Russian Revolution of 1917, he was imprisoned and murdered. Size: 7 x 3.5 cm approx. Photos form part of the description. This item is in the category "Collectables\Historical Memorabilia\Royalty Collectables".
The seller is "bibelotslondon" and is located in this country: GB. This item can be shipped worldwide.
Country/Region of Manufacture: Russian Federation
Theme: Royalty
Royal/ Reign: Russian Royalty
Type: Calling Card
Features: Antique
Vintage: Yes
Manufacturer: Russian Imperial Court
Royal: Tsar Nicholas II
Royalty: Non-UK Royalty

---