Grand Duchess Elena Romanov Imperial Russian Antique Signed Letter to GD Melita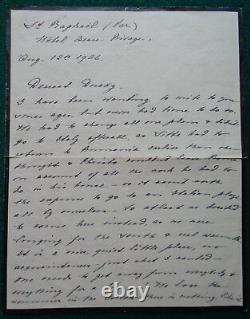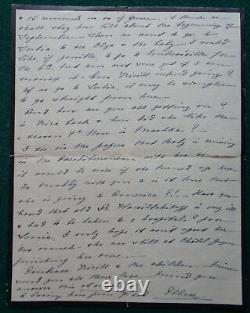 Bibelotslondon Ltd is a UK registered company based in London Bridge dealing in ephemera and curiosities from Britain and around the world. Our diverse inventory is carefully chosen and constantly evolving. We work very hard to offer the highest quality works at competitive prices.
Our inventory is listed online, and we strive to keep our website completely up to date, so our customers can easily check availability. We believe in offering clients items that are unique and rare for aficionados of the antique and collector's world. Bibelot is a late nineteenth century word derived from the French word bel'beautiful', meaning a small item of beauty, curiosity or interest. The word ephemera is derived from the sixteenth century Greek word ephmera meaning a printed or hand written paper not meant to be retained for a long period of time. The letter which concerns family gossip is written in English and dated Hotel Beau-Bridage, St Raphael, 12th August 1926.
Dearest Ducky, I have been wanting to write to you some ages, but never had time to do so. We had to arrange all our plans & didn't go to Italy after all, as Sittle had to return to Roumania earlier thn she thought & Christo couldn't leave Rome on account of all the work he had to do in his home - or it won't [be] worth the expense to go to an xxx xxx all by oneself - so at last we decided to move here instead, so we were longing for the south & real warmth. It is a nice, quiet little place, no acquaintances - just what I wanted - one needs to get away from everybody & everything for a time! - We love the summer in the south - there is nothing like it & it reminds me of Greece.
I think we shalll stay here till about the beginning of September - Then we want to go to Serbia to see Olga & the baby. If we go to Serbia, it may be simpler to go straight from here. And how are you alll getting on? Is Kira back & how did she like the season?
I see in the papers that Bety is xxx in the Mediterranean with her sons - it would be nice if she turned up here. Is Maddy with you & is it true that she is going to America? Here we heard that old A. Wassiltchikoff is very ill & had to be taken to a hospital?
Poor Sonia, i only hope it won't upset her too much - she was still at Chotel-xxx finishing her xxx- Embrace Kirill & the children - mine send you all their love - mind you answer this at once! A loving kiss from yr old Ellen. Elena was a Russian Grand Duchess as the only daughter and youngest child of Grand Duke Vladimir Alexandrovich of Russia and Duchess Marie of Mecklenburg-Schwerin. Her husband was Prince Nicholas of Greece and Denmark and they were both first cousins of Tsar Nicholas II of Russia.
The family was later affected by the turmoil of the Russian Revolution of 1917 and the subsequent turmoil in Greece, which became a republic and resulted in the family living in France for a time. While living in France she became deeply involved in charity work for Russian exiles, particularly children. Her fabulous jewel collection, as well as Prince Nicholas' own artwork, were their sources of income.
Taponier was a French photographer, active from 1895 to 1930, specializing in celebrity portraits. D He was a descendant of a Genevan family, and learned photography with Frédéric Boissonnas in Geneva.
He died on December 26th, 1930, from a traffic accident the day before. The activity of the workshop continued until 1958 by his son Pierre, who had assisted him for a decade.
Size: 27 x 21 cm approx. Photos form part of the description. This item is in the category "Collectables\Autographs\Uncertified Originals\Historical". The seller is "bibelotslondon" and is located in this country: GB.
This item can be shipped worldwide.
Country/Region of Manufacture: Russian Federation
Type: Historical
Sub-Type: Royalty
Signed: Yes
Object: Signed Letters

---