Danish Royal Family Signed Document HM Queen Alexandrine Denmark Prince Princess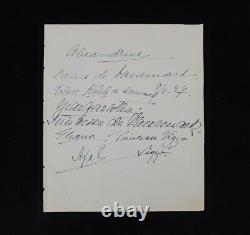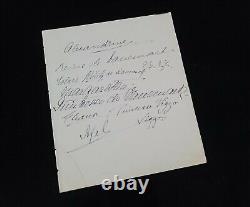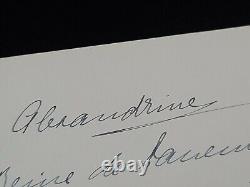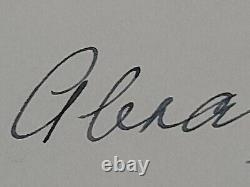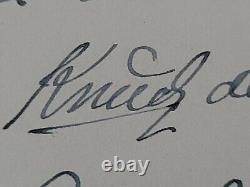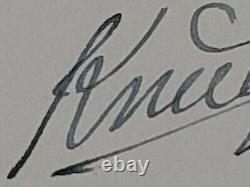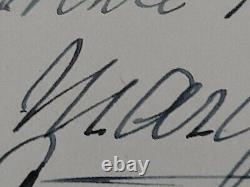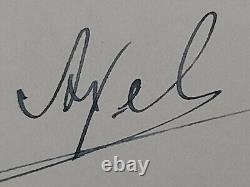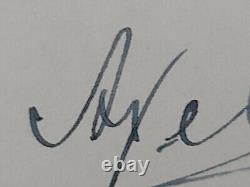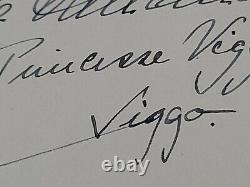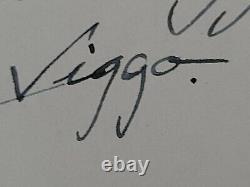 For your consideration is an exceedingly rare and historically important c. 1928 Imperial Russian Royalty autograph album page, hand-signed by HM Queen Alexandrine of Denmark & Ireland, HRH Prince Knud of Denmark, HRH Princess Margarita of Denmark & Greece, HRH Princess Vigo of Denmark (Eleanor Margaret Green), and HRH Prince Axel Viggo of Denmark.
Very rare royal family grouping on a single page! Royalty autographs / signatures are manuscript in black ink. Minor water stain to lower left hand corner of paper, as pictured. Page will be carefully removed from album. Album page measures approximately 5.5" × 6.5".
Alexandrine of Mecklenburg-Schwerin (24 December 1879 - 28 December 1952) was Queen of Denmark from 1912 to 1947, as well Queen of Iceland from 1918 to 1944 as the spouse of King Christian X. She was the paternal grandmother of the current reigning Queen of Denmark, Margrethe II. Alexandrine was a daughter of Frederick Francis III, Grand Duke of Mecklenburg-Schwerin and Grand Duchess Anastasia Mikhailovna of Russia. She was brought up with simplicity, and her early life was peripatetic, spending summers in Mecklenburg and the rest of the year in the south of France. She married Prince Christian of Denmark in 1898.
Alexandrine became crown princess in 1906 and queen consort of Denmark in 1912. She is not considered to have played any political role, but is described as being intelligent and a loyal support to her spouse. In spite of her German background, she was loyal to her new country and stood by her husband during the German occupation of Denmark during World War II.
Knud, Hereditary Prince of Denmark (Knud Christian Frederik Michael; 27 July 1900 - 14 June 1976) was a member of the Danish royal family, the younger son and child of King Christian X and Queen Alexandrine. From 1947 to 1953, he was heir presumptive to his older brother, King Frederick IX, and would have succeeded him as king following his death in January 1972 had it not been for a change in the Danish Act of Succession that replaced him with his niece, Queen Margrethe II.
Princess Margarita of Greece and Denmark (Greek:????????? ; 18 April 1905 - 24 April 1981) was by birth a Greek and Danish princess as well as Princess of Hohenlohe-Langenburg by marriage. A sister-in-law of Queen Elizabeth II of the United Kingdom, she was for a time linked to the Nazi regime. The eldest daughter of Prince Andrew of Greece and Denmark and Princess Alice of Battenberg, Margarita spent a happy childhood between Athens and Corfu. For the young princess and her relatives, these conflicts had dramatic consequences and led to their exile in Switzerland (between 1917 and 1920), then in France and the United Kingdom (from 1922 to 1936).
During their exile, Margarita and her family depended on the generosity of their foreign relatives, in particular Marie Bonaparte (who offered them accommodation in Saint-Cloud) and Lady Louis Mountbatten (who supported them financially). At the end of the 1920s, Margarita's mother was struck by a mental health crisis which led to her confinement in a Swiss psychiatric hospital.
Shortly after, in 1931, Margarita married Prince Gottfried of Hohenlohe-Langenburg. The couple then moved to Weikersheim Castle, where they raised a large family made up of four sons (Princes Kraft, Georg Andreas, Rupprecht and Albrecht) and a daughter (Princess Beatrix).
Members of the Nazi party from 1937, Gottfried and Margarita used their family connections to promote a rapprochement of Nazism within the United Kingdom, though without success. During the 1930s, the couple also made several trips abroad.
In particular, she went to New York in 1934 to testify in favor of Gloria Morgan Vanderbilt, Gottfried's former fiancée, in the case between her and her in-laws for the custody of her daughter, also named Gloria. Affected by the Second World War, which divided her relatives into two factions, Margarita spent time in Langenburg during the conflict.
The defeat of Germany and its occupation by the Allies brought new upheavals in the life of Margarita and Gottfried. Though preserved from Soviets, who caused the death of several of their cousins, the couple was ostracized by the British royal family at the time of the marriage of Prince Philip, Margarita's only brother, to Princess Elizabeth of the United Kingdom in 1947.
Over the years, the couple was nevertheless reintegrated into the life of the European elite, as illustrated by their invitation and presence at the coronation of Elizabeth II in 1953; and the princess's presence at the wedding of Juan Carlos, Prince of Asturias, and Princess Sophia of Greece and Denmark in 1962. Widowed in 1960, Margarita witnessed the fire breakout at Langenburg Castle in 1963. Her last years were marked by the marriages of three of her sons, but also by the deaths of several of her relatives, including her son Rupprecht, who committed suicide in 1978.
The princess died in 1981 and her body was buried in the Hohenlohe-Langenburg family mausoleum. Princess Viggo, Countess of Rosenborg (née Eleanor Margaret Green; November 5, 1895 - July 3, 1966) was an American who became a Princess in Denmark. By her marriage to Prince Viggo, Count of Rosenborg, Green became Princess Viggo, Countess of Rosenborg.
Green married Prince Viggo of Denmark, Viggo Christian Adolph George, son of Prince Valdemar of Denmark and Princess Marie Amélie Françoise Hélène d'Orléans, on June 10, 1924, in New York City. Without the legally required permission of the Danish king for a dynastic marriage, Prince Viggo renounced his place in Denmark's line of succession to the Crown, his title of Prince of Denmark, and his style of Royal Highness as was customary in the Danish royal house upon marriage to a commoner. Before the wedding Viggo, with the king's authorisation, assumed the title of His Highness Prince Viggo, Count of Rosenborg. In connection with the marriage and her husband's new title, Eleanor Margaret Green became Her Highness Princess Viggo, Countess of Rosenborg. Prince and Princess Viggo had no children.
The couple lived at Bernstorff Palace in Denmark. Princess Viggo was active in charity work. She died on July 3, 1966, at age 70 at Copenhagen, Denmark. Prince Axel of Denmark, RE, SKmd (Danish: Prins Axel Christian Georg til Danmark; 12 August 1888 - 14 July 1964) was a member of the Danish royal family.
He was the second son of Prince Valdemar of Denmark and Princess Marie of Orléans, and a grandson of King Christian IX of Denmark. Prince Axel was a popular patron of sports.
He was a prominent International Olympic Committee member and activist and also a business executive. In 1963, Prince Axel became the first honorary member of the IOC in history. He was an officer in the Royal Danish Navy.

---