Antique Signed Russian Photo Grand Duchess Marie Romanov Royal Provenance 1929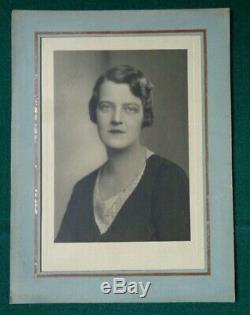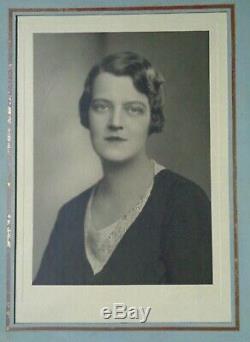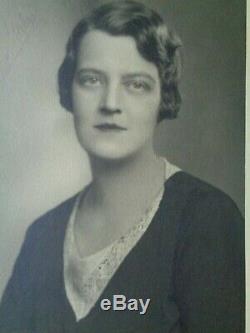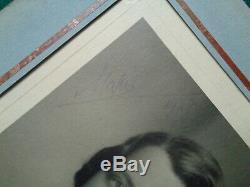 Bibelotslondon Ltd is a UK registered company based in London Bridge dealing in ephemera and curiosities from Britain and around the world. Our diverse inventory is carefully chosen and constantly evolving. We work very hard to offer the highest quality works at competitive prices.
Our inventory is listed online, and we strive to keep our website completely up to date, so our customers can easily check availability. We believe in offering clients items that are unique and rare for aficionados of the antique and collector's world. Bibelot is a late nineteenth century word derived from the French word bel beautiful, meaning a small item of beauty, curiosity or interest. The word ephemera is derived from the sixteenth century Greek word ephmera meaning a printed or hand written paper not meant to be retained for a long period of time. Housed in its original antique mount, annotated on the reverse in pencil by the photographer.
Grand Duchess Maria was a paternal first cousin of Russia's last Tsar and maternal first cousin of Prince philip, Duke of Edinburgh. Her early life was marked by the death of her mother and her father's banishment from Russia when he remarried a commoner in 1902. Grand Duchess Maria and her younger brother Dmitri, to whom she remained very close throughout her life, were raised in Moscow by their paternal uncle Grand Duke Sergei Alexandrovich and his wife Grand Duchess Elisabeth Feodorovna, a granddaughter of Queen Victoria. In 1908 she married Prince Whilhelm, Duke of Sodermanland. The couple had only one son, Prince Lennart, Duke of Smaland. Later Count Bernadotte af Wisborg.
The marriage was unhappy and ended in divorce in 1914. She served as a nurse until the fall of the Russian monarchy in February 1917. In September 1917, during the period of the Provisional Government. She married Prince Sergei Putyatin.
They had one son, Prince Roman Sergeievich Putyatin, who died in infancy. The couple escaped revolutionary Russia through Ukraine.
In exile, Grand Duchess Maria lived briefly in Bucharest and London before she settled in Paris in 1920. In the 1920s, she opened. An embroidering fashion atelier that achieved some level of success. In 1928, she emigrated to the US.
While living in New York. She published two books of memoirs.
The Education of a Princess. In 1942, she moved to Argentina where she spent the years of World War II.
She died in Konstanz in Germany, in 1958. Grand Duke Andrei Vladimirovich was a son of Grand Duke Vladimir Alexandrovich. In 1900, he began an affair with the famous ballerina Kschessinska, becoming the third grand duke to fall for her. He followed a military career and graduated from the Alexandrovskaya Military Law academy in 1905. He occupied different military positions during the reign of Tsar Nicholas II, but with no particular distinction.
He became senator in 1911 and was appointed Major General in the Russian Army in 1915. He took part in World War I, but was away from real combat spending most of the conflict at Russia's headquarters or in St Petersburg. In February 1917, shortly before the fall of the Russian monarchy, he left St Petersburg to join his mother in Kislovodsk. He remained in the Caucasus for the next three years. After the October Revolution he was briefly arrested along with his brother, Grand Duke Boris, but they escaped. He departed revolutionary Russia in March 1920, being the last grand duke to leave for exile. In 1921, he married his longtime mistress Mathilde Kschessinska and recognized her son as his. The couple lived in the South of France until 1929 when they moved permanently to Paris, where Kschessinska opened a ballet school.
After World War II they lived under reduced circumstances. Size of Photo: 25 x 35 cm approx. Size of Mount: 35.5 x 27 cm approx. Photos form part of the description.
The item "Antique Signed Russian Photo Grand Duchess Marie Romanov Royal Provenance 1929" is in sale since Sunday, July 21, 2019. This item is in the category "Collectables\Autographs\Uncertified Originals\Historical".
The seller is "bibelotslondon" and is located in London. This item can be shipped worldwide.
Country/Region of Manufacture: France
Type: Historical
Options: Russia
Sub-Type: Royalty
Object: Signed Photos

---