Antique Russia Imperial Proclamation Tsar Alexander Romanov Death of Grand Duke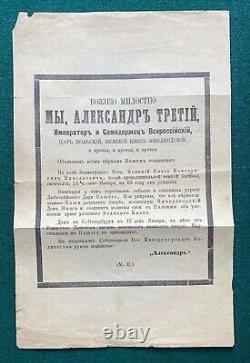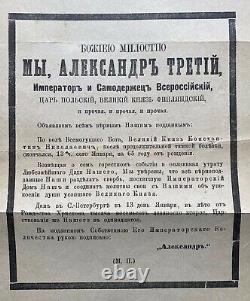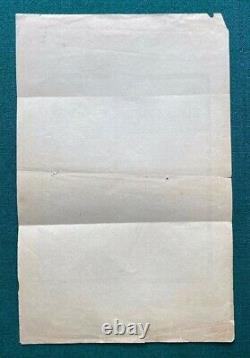 Bibelotslondon Ltd is a UK registered company based in London Bridge dealing in ephemera and curiosities from Britain and around the world. Our diverse inventory is carefully chosen and constantly evolving. We work very hard to offer the highest quality works at competitive prices.
Our inventory is listed online, and we strive to keep our website completely up to date, so our customers can easily check availability. We believe in offering clients items that are unique and rare for aficionados of the antique and collector's world. Bibelot is a late nineteenth century word derived from the French word bel'beautiful', meaning a small item of beauty, curiosity or interest.
The word ephemera is derived from the sixteenth century Greek word ephmera meaning a printed or hand written paper not meant to be retained for a long period of time. Fine antique Russian imperial p roclamation from Tsar Alexander III, announcing the death of.
Grand Duke Konstantin Nikolayevich of Russia. 1892, the second son of Tsar Nicholas I. And younger brother of Tsar Alexander II. During the reign of Alexander II, Konstantin was an admiral of the Russian fleet and reformed the Russian Navy.
He was also an instrumental figure in the emancipation of the serfs. After the assassination of his brother Alexander II in 1881, Konstantin fell from favour.
The new tsar, Alexander III, his nephew, opposed Konstantin's liberal ideas and gradually stripped him of all his governmental positions. His retirement was marked with personal turmoil and family setbacks. After suffering a stroke, he spent his last years as an invalid. By the Grace of God. Emperor and Autocrat of all Russia. Czar of Poland, Grand Duke of Finland. We announce to all Our faithful subjects. By the will of the Almighty God, after a long and serious illness, the Grand Duke Konstantin Nikolayevich, died on the 13th of January, 65 years after birth. Proclaiming this sad event and mourning the loss of Our Most Beloved Uncle, We are confident that all Our loyal subjects will share the sorrow that befell Our Imperial House and combine their prayers with Ours for the repose of the soul of the deceased Grand Duke. Day of January, in the year of our Lord, eighteen ninety-two, in the eleventh year of Our reign. Signed by the hand of His Imperial Majesty. Photographs form part of the Description. Size: 17 x 25.5 cm approx.
This item is in the category "Collectables\Historical Memorabilia\Royalty Collectables". The seller is "bibelotslondon" and is located in this country: GB. This item can be shipped worldwide.
Country/Region of Manufacture: Russian Federation
To Commemorate: Death of Grand Duke Constantine
Theme: Royalty
Royal/ Reign: Non-UK Royalty
Type: Government Proclamation
Year: 1892
Features: Antique
Vintage: Yes
Manufacturer: Russian Imperial Court
Royal: Tsar Alexander III
Royalty: Russia

---