Antique Imperial Russian Signed Photo Oldenburg Grand Duchess Olga Romanov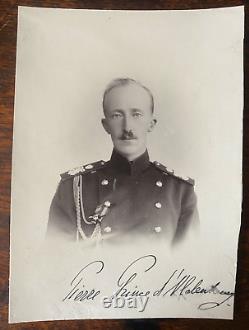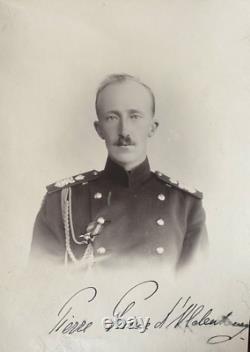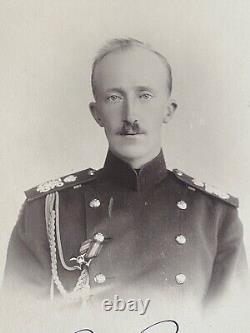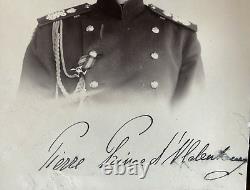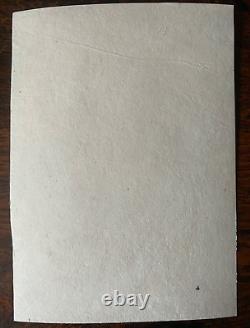 Bibelotslondon Ltd is a UK registered company based in London Bridge dealing in ephemera and curiosities from Britain and around the world. Our diverse inventory is carefully chosen and constantly evolving. We work very hard to offer the highest quality works at competitive prices. Our inventory is listed online, and we strive to keep our website completely up to date, so our customers can easily check availability. We believe in offering clients items that are unique and rare for aficionados of the antique and collector's world.
Bibelot is a late nineteenth century word derived from the French word bel'beautiful', meaning a small item of beauty, curiosity or interest. The word ephemera is derived from the sixteenth century Greek word ephmera meaning a printed or hand written paper not meant to be retained for a long period of time.
He was born in St Petersburg. His mother was a granddaughter of Tsar Nicholas I. Through Nicholas's daughter, Grand Duchess Maria Nikolaevna. And his father was a great-grandson of Tsar Paul I. Through his paternal grandmother Grand Duchess Catherine Pavlovna.
In 1900, he began to escort the 18-year-old Grand Duchess Olga Alexandrovna. To the theatre and opera. His proposal of marriage the following year came as a surprise to Olga, who later explained, "I was so taken aback that all I could say was'thank you'". She assumed that Oldenburg was pushed into proposing by his ambitious mother. Perhaps Olga accepted his proposal to gain independence from her mother, or avoid marriage into a foreign court.
The marriage was announced in May 1901, and was unexpected by many, as Oldenburg had shown no prior interest in women. The Dowager Empress Marie Feodorovna. Olga is engaged to Petya and both are very happy.
I had to consent, but it was all done so quickly and unexpectedly that I still cannot believe it. Tsar Nicholas replied to his mother, ... I cannot believe Olga is actually engaged to Petya. They were probably both drunk yesterday. We both laughed so much reading your note that we have not recovered yet.
A prenuptial agreement drawn up by a committee of the Tsar, the Oldenburg family, and government ministers, promised Olga an annuity of 100,000 rubles from the Tsar, and one million rubles to be deposited in a fund from which she could draw interest. Photographs form part of the Description.

---