Antique Imperial Russian Signed Photo Duchess Therese Oldenburg Leuchtenberg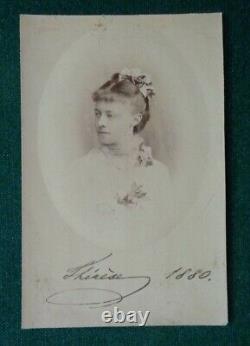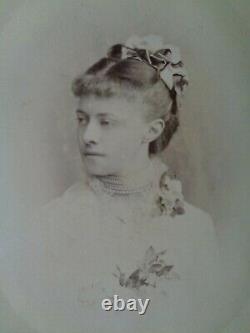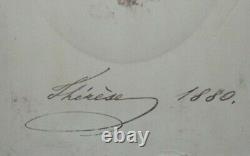 Bibelotslondon Ltd is a UK registered company based in London Bridge dealing in ephemera and curiosities from Britain and around the world. Our diverse inventory is carefully chosen and constantly evolving. We work very hard to offer the highest quality works at competitive prices. Our inventory is listed online, and we strive to keep our website completely up to date, so our customers can easily check availability.
We believe in offering clients items that are unique and rare for aficionados of the antique and collector's world. Bibelot is a late nineteenth century word derived from the French word bel'beautiful', meaning a small item of beauty, curiosity or interest. The word ephemera is derived from the sixteenth century Greek word ephmera meaning a printed or hand written paper not meant to be retained for a long period of time. Fine antique Cabinet photo by Charles Bergamasco, signed by.
Duchess Therese Wilhelmine Olga Friederike of Oldenburg. She was the youngest daughter of Duke Peter Georgievich of Oldenburg and his wife Princess Therese of Nassau-Weilburg. Therese's elder brother Duke. Had been married to George's sister Princess Eugenia Maximilianovna. Through either the deaths or morganatic marriages. Of his elder brothers, George was the head of the Russian branch of the House of Beauharnais. Therese's grandfather had married Grand Duchess Catherine Pavlovna.
And their descendants had been raised in Russia ever since and become completely "Russianised", much like George's own family. Thus despite her German title, Duchess Therese, like her brother Duke Alexander and their father before them, had grown up entirely in Russia. Therese and her siblings were always considered a part of the Russian imperial family.
Therese and George had one son, Alexander Georgievich, 7th. In 1912, Alexander was reported to have gained the reluctant consent of Tsar Nicholas II. To marry the wealthy commoner, Marriane Friedlander Fuld, but only on the condition that the union would be considered unequal, with none of his titles being passed onto his wife or possible children. Despite being the senior descendant of Eugene de Beauharnais (son of Empress Josephine).
Alexander was far from rich, and served as a captain of the Russian Hussars. Of the guard and as an aide-de-camp. He was, however, the principal heir to his grandfather. He later morganatically married Nadezhda Caralli in 1917, losing his rights and prerogatives. Later that year, while lodging with Prince Felix Yusupov, Alexander was arrested by the Bolshevik authorities, along with four or five prominent members of the monarchical party.
Therese died on 19 April 1883 in St Petersburg, s. Ix years after her death, George remarried to Princess Anastasia of Montenegro. Size: 15.5 x 10 cm approx.
Photos form part of the description. This item is in the category "Collectables\Autographs\Uncertified Originals\Historical". The seller is "bibelotslondon" and is located in this country: GB.
This item can be shipped worldwide.
Country/Region of Manufacture: Russian Federation
Type: Historical
Sub-Type: Royalty
Signed: Yes
Object: Signed Photos

---