Antique Imperial Russian Photo a Young Grand Duchess Leonida Romanov Bagration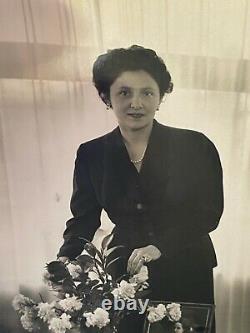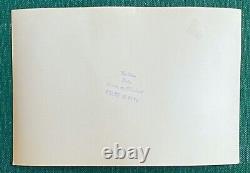 Bibelotslondon Ltd is a UK registered company based in London Bridge dealing in ephemera and curiosities from Britain and around the world. Our diverse inventory is carefully chosen and constantly evolving. We work very hard to offer the highest quality works at competitive prices. Our inventory is listed online, and we strive to keep our website completely up to date, so our customers can easily check availability.
We believe in offering clients items that are unique and rare for aficionados of the antique and collector's world. Bibelot is a late nineteenth century word derived from the French word bel'beautiful', meaning a small item of beauty, curiosity or interest. The word ephemera is derived from the sixteenth century Greek word ephmera meaning a printed or hand written paper not meant to be retained for a long period of time.
Grand Duke Vladimir married Princess Leonida Georgievna Bagration-Moukhransky on 13 August 1948 in Lausanne. Pre-revolutionary Romanov house law dictated that only those born of an "equal marriage" between a Romanov dynast and a member of a "royal or sovereign house", were included in the Imperial line of succession to the Russian throne; children of morganatic marriages were ineligible to inherit the throne or dynastic status. The family to which Princess Leonida belonged, the Bagrationi dynasty, had been kings in Georgia from the medieval era until the early 19th century, but no male line ancestor of hers had reigned as a king in Georgia since 1505 and her branch of the Bagrations, the House of Mukhrani, had been naturalised among the non-ruling nobility of Russia after Georgia was annexed to the Russian empire in 1801. Yet the royal status of the House of Bagration had been recognized by Russia in the 1783 Treaty of Georgievsk and was confirmed by Vladimir Kirillovich on 5 December 1946 as claimed head of the Russian imperial house. However the last ruling emperor of Imperial Russia Nicholas II had deemed marriage in this family of Princess Tatiana Constantinova in 1911, as morganatic.
Some controversy therefore arises as to whether Vladimir's marriage to Leonida was equal or morganatic, and whether his claim to the Imperial throne validly passed to his daughter Maria, to some other dynast, or to no one upon his death. Following Vladimir's public designation of his daughter as "curatrix of the throne", in anticipation that she would eventually succeed him as head of the dynasty in exile, the heads of three of the other branches of the imperial family-the Princes Vsevolod Ioannovich (Konstantinovichi), Roman Petrovich (Nikolaevichi) and Andrei Alexandrovich (Mihailovichi) -- wrote to Vladimir in 1969, asserting that the dynastic status of his daughter was no different from that of their own children (Vsevolod Ioannovich was childless, but Roman Petrovich had two sons by Countess Prascovia Sheremetyev, while Andrei Alexandrovich had two sons by Donna Elisabeth Ruffo of a Russian branch of the Princes di San Sant' Antimo) and that his wife was of no higher status than the wives of the other Romanov princes. Leonida Georgievna died on 23 May 2010, after her health had rapidly deteriorated.
She requested to be buried next to her husband Vladimir Kirillovich in the Grand Ducal Mausoleum in St. She was the last member of the Romanov family born on the territory of the Russian Empire.
Size: 17.5 x 11.5 cm approx. Photos form part of the description. This item is in the category "Collectables\Historical Memorabilia\Royalty Collectables". The seller is "bibelotslondon" and is located in this country: GB.
This item can be shipped worldwide.
Country/Region of Manufacture: Russian Federation
To Commemorate: Family
Theme: Royalty
Type: Photos
Year: Circa 1950
Features: Antique
Vintage: Yes
Manufacturer: Zaidin
Royal: Tsar Nicholas II
Royalty: Russian Royalty

---