Antique Imperial Russian Memoir Alexis Volkov Valet Tsarina Alexandra Romanov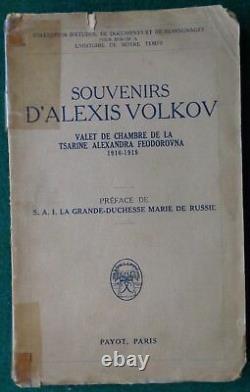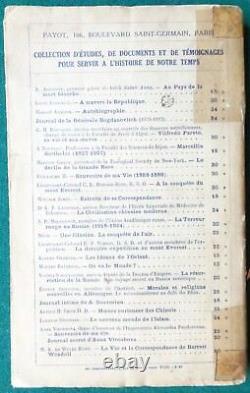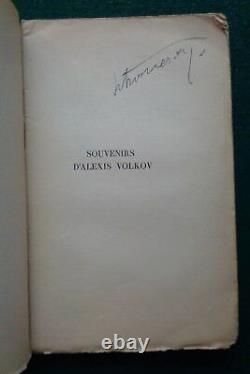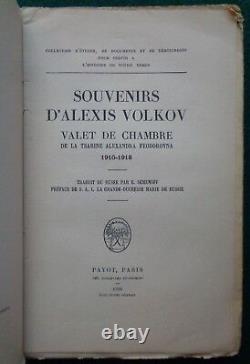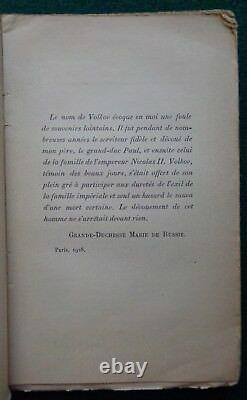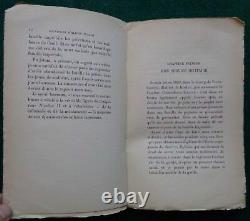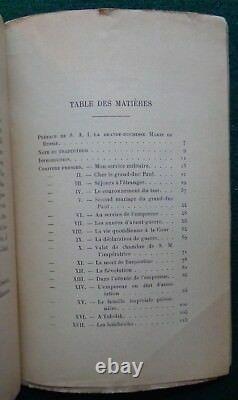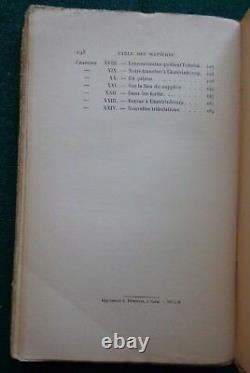 Bibelotslondon Ltd is a UK registered company based in London Bridge dealing in ephemera and curiosities from Britain and around the world. Our diverse inventory is carefully chosen and constantly evolving. We work very hard to offer the highest quality works at competitive prices.
Our inventory is listed online, and we strive to keep our website completely up to date, so our customers can easily check availability. We believe in offering clients items that are unique and rare for aficionados of the antique and collector's world. Bibelot is a late nineteenth century word derived from the French word bel beautiful, meaning a small item of beauty, curiosity or interest.
The word ephemera is derived from the sixteenth century Greek word ephmera meaning a printed or hand written paper not meant to be retained for a long period of time. Published in Paris by Payot in 1928 by. Preface by Grand Duchess Marie, 198 pages. He was a valet at the court of Tsar Nicholas II. He escaped a death march at Perm in September 1918 and survived to write his memoirs about his time at court and his escape.
These include his experience of events such as the Khodynka Tragedy. Volkov was born in the town of Old-Ioriev, Kozlov District, Tambov Guberniya. As a young adult, he entered the Russian Army and rose through the ranks. He was on guard and witnessed the assassination of Tsar Alexander II in 1881. Later he was a military instructor to Tsar Nicholas II.
From 1886, he was in service to Grand Duke Paul Alexandrovich of Russia. In 1910 he became a valet at the court of Nicholas II and became the Tsarina's personal servant and often pushed her wheelchair.
Volkov followed the Tsar's family and household into internal exile following the Russian Revolution of 1917, but was separated from them at Ekaterinburg and imprisoned at Perm. There, he heard that the Tsar had been murdered by Bolsheviks, though he was unaware that the Tsarina and their children had also been shot.
On 4th September 1918, he was taken from his prison cell in the middle of the night and led to the prison office, where he saw lady-in-waiting Anastasia Hendrikova and the elderly tutor Catherine Schneider. They were joined by eight other prisoners, including the chambermaid from the house where Grand Duke Michael Alexandrovich of Russia had lived. They had an escort of twenty-two guards, none of whom where Russian. Volkov asked a guard where they were being taken and was told they were being taken to the house of arrest. Hendrikova, who had been in the washroom, asked a guard the same question when she came out.
She was told they were being taken to the central prison. " Hendrikova asked him, "and from there? Hendrikova repeated this conversation to her fellow prisoners and made the sign of the cross with her fingers. Volkov took her gesture to mean they will not shoot us. The sailor at the prison office door kept checking the front door that led to the street to make sure no one was there.
After a while another sailor said, Let's go. They lined the prisoners up in the street in rows of two, the men in front and the women in back. The group walked all the way to the edge of town and onto the Simbirsk road. Volkov asked another prisoner where the central prison was and was told they had long passed it. Volkov realized they were being taken into the woods to be shot.
He broke from the group and ran for his life at the first opportunity. A bullet whizzed past his ear.
Behind him he heard gunshots as the other prisoners in the group were shot and killed. Volkov eventually joined other refugees at the White Army headquarters in Omsk and made his escape from Russia through Vladivostok and the Far East.
[4] In 1922, he settled in Estonia. He later lived in Denmark, where he was highly respected in the émigré community because of his lifelong loyalty to the Romanov family. In 1925, Prince Valdemar of Denmark asked Volkov to visit Anna Anderson, who claimed to be Valdemar's great-niece, Grand Duchess Anastasia Nikolaevna of Russia.
Anderson was being treated at St. Mary's Hospital in Berlin for a tubercular infection of her arm. When Volkov first arrived at the hospital, on 3rd July 1925, he caught a glimpse of Anderson when she went for a walk in the hospital grounds.
At that point, Volkov thought Anderson resembled Anastasia, but the next day, they met one another and Volkov was dismayed to find that Anderson could or would not speak Russian with him. Anderson did not recognise him, and Volkov was unable to discern a facial resemblance to Anastasia. On his final visit the following day, 6th July 1925, Anderson correctly answered some of his questions. At the conclusion of his visit, Volkov did not say whether he thought Anderson was or was not Anastasia.
Afterwards, in an interview with the Russian-language newspaper Poslednyi Novosti, published in Estonia on 15th January 1926, Volkov denied Anderson was Anastasia, and decried her as an impostor. In 1995, DNA tests confirmed that Anderson was not Anastasia. Size: 23 x 14.5 cm approx. Photos form part of the description.
The item "Antique Imperial Russian Memoir Alexis Volkov Valet Tsarina Alexandra Romanov" is in sale since Thursday, March 15, 2018. This item is in the category "Books, Comics & Magazines\Antiquarian & Collectable". The seller is "bibelotslondon" and is located in London. This item can be shipped worldwide.
Non-Fiction Subject: Biographies & True Stories
Year Printed: 1928
Binding: Paperback
Original/Reproduction: Original
Publication Year: 1928
Author: Alexei Volkov
Original/Facsimile: Original
Language: French
Place of Publication: Paris
Special Attributes: 1st Edition

---