Antique Imperial Russian Grand Duke Nicholas Romanov in Military Uniform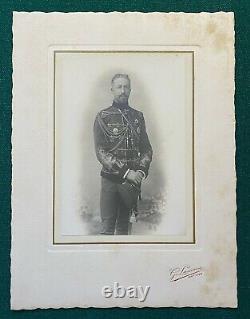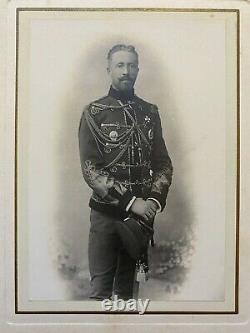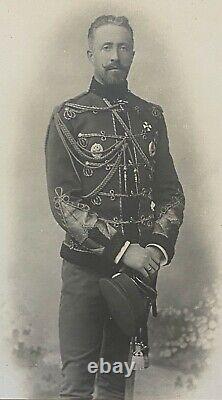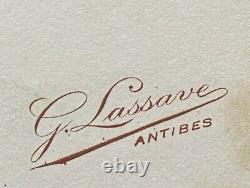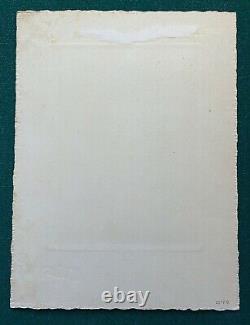 Bibelotslondon Ltd is a UK registered company based in London Bridge dealing in ephemera and curiosities from Britain and around the world. Our diverse inventory is carefully chosen and constantly evolving. We work very hard to offer the highest quality works at competitive prices. Our inventory is listed online, and we strive to keep our website completely up to date, so our customers can easily check availability. We believe in offering clients items that are unique and rare for aficionados of the antique and collector's world.
Bibelot is a late nineteenth century word derived from the French word bel'beautiful', meaning a small item of beauty, curiosity or interest. The word ephemera is derived from the sixteenth century Greek word ephmera meaning a printed or hand written paper not meant to be retained for a long period of time. Fine antique photograph black and white cabinet photo by G. He was a Russian general in World War I.
A grandson of Nicholas I of Russia, he was commander in chief of the Russian armies on the main front in the first year of the war, and was later a successful commander in the Caucasus. The February Revolution found Nicholas in the Caucasus. He was appointed by the Emperor, in his last official act, as the supreme commander in chief, and was wildly received as he journeyed to headquarters in Mogilev; however, within 24 hours of his arrival, the new premier, Prince Georgy Lvov, cancelled his appointment. Nicholas spent the next two years in the Crimean Peninsula, sometimes under house arrest, taking little part in politics.
There appears to have been some sentiment to have him head the White Russian forces active in southern Russia at the time, but the leaders in charge, especially General Anton Denikin, were afraid that a strong monarchist figurehead would alienate the more left leaning constituents of the movement. He and his wife escaped just ahead of the Red Army in April 1919, aboard the British Battleship HMS Marlborough.
On August 8, 1922, Nicholas was proclaimed as the emperor of all Russia by the Zemsky Sobor of the Priamursk region by general Mikhail Diterikhs. The former was already living abroad and consequently was not present.
Two months later the Priamursk region fell to the Bolsheviks. After a stay in Genoa as a guest of his brother-in-law, Victor Emmanuel III, King of Italy, Nicholas and his wife took up residence in a small castle at Choigny, 20 miles outside of Paris. He was under the protection of the French secret police as well as by a small number of faithful Cossack retainers.
He became the center of an anti-Soviet monarchist resistance group, and headed the Russian All Military Union alongside general Pyotr Wrangel. Plans were made by them to send their agents into Russia. Conversely a top priority of the Soviet secret police was to penetrate this monarchist organization and to kidnap Nicholas. They were successful in the former, infiltrating the group with spies, and later luring the anti-Bolshevik British master spy Sidney Reilly back to the Soviet Union where he was killed. They did not succeed however, with kidnapping Nicholas.
As late as June 1927, the monarchists were able to set off a bomb at the Lubyanka Prison in Moscow. Grand Duke Nicholas died on January 5, 1929 of natural causes on the French Riviera, where he had gone to escape the rigors of winter. Size of Photo: 18 x 23.5 cm approx. Photos form part of the description. This item is in the category "Collectables\Historical Memorabilia\Royalty Collectables". The seller is "bibelotslondon" and is located in this country: GB. This item can be shipped worldwide.
Country/Region of Manufacture: Russian Federation
To Commemorate: Family
Theme: Royalty
Type: Cabinet Photo
Features: Antique
Vintage: Yes
Manufacturer: Lassave of Antibes
Royal: Tsar Nicholas II
Royalty: Russia

---