Antique Imperial Russian Grand Duchess Maria Romanov Signed Christmas Card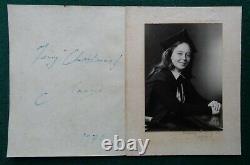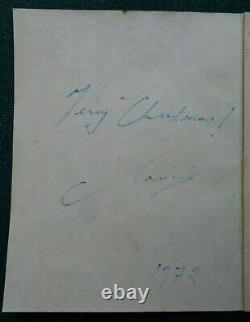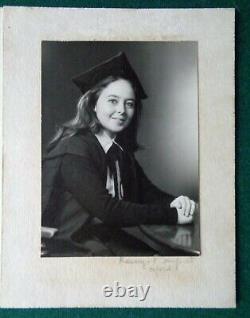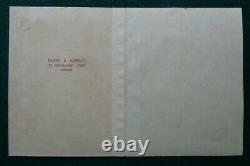 Bibelotslondon Ltd is a UK registered company based in London Bridge dealing in ephemera and curiosities from Britain and around the world. Our diverse inventory is carefully chosen and constantly evolving. We work very hard to offer the highest quality works at competitive prices. Our inventory is listed online, and we strive to keep our website completely up to date, so our customers can easily check availability. We believe in offering clients items that are unique and rare for aficionados of the antique and collector's world.
Bibelot is a late nineteenth century word derived from the French word bel'beautiful', meaning a small item of beauty, curiosity or interest. The word ephemera is derived from the sixteenth century Greek word ephmera meaning a printed or hand written paper not meant to be retained for a long period of time. Rare Christmas card signed by and featuring a photograph of Maria Vladimirovna, Grand Duchess of Russia (born 23 December 1953 in Madrid), whilst a student at Oxford, written in blue felt tip pen and dated 1972.
The photograph is by Ramsey & Muspratt who well known for photographing famous people in Oxford. She has been a claimant to the headship of the Imperial Family of Russia who reigned as Emperors and Autocrats of All the Russias since 1992. She has used Grand Duchess of Russia as her title of pretence with the style Imperial Highness throughout her life, though her right to do so is disputed. She is a great-great-granddaughter in the male-line of Emperor Alexander II of Russia.
Maria Vladimirovna was born in Madrid, the only child of Grand Duke Vladimir Kirillovich of Russia, Head of the Imperial Family of Russia and titular Emperor of Russia, and Princess Leonida Bagration-Mukhrani of Georgian-Polish parentage. Her paternal grandparents were Grand Duke Kirill Vladimirovich of Russia and Grand Duchess Victoria Fyodorovna (née Princess Victoria Melita of Edinburgh and Saxe-Coburg-Gotha). Her godfather was Prince Nicholas of Romania and as a godmother Queen Ioanna of Bulgaria.
Maria was educated in Madrid and Paris, before spending a few terms at Oxford University, where she studied Russian history and literature, which is where this Christmas card was written. On 23 December 1969, upon reaching her dynastic majority, Maria swore an oath of loyalty to her father, to Russia, and to uphold the Fundamental Laws of Russia which governed succession to the defunct throne. At the same time, her father issued a controversial decree recognising her as heiress presumptive and declaring that, in the event he predeceased other Romanov males whom he had recognised as dynasts, then Maria would become the "Curatrix of the Imperial Throne" until the death of the last male dynast.
This has been viewed as an attempt by her father to ensure the succession remained in his branch of the imperial family, while the heads of the other branches of the imperial family, the Princes Vsevolod Ioannovich of the (Konstantinovichi), Roman Petrovich of the (Nikolaevichi) and Prince Andrei Alexandrovich of the (Mihailovichi) declared that her father's actions were illegal. The legality of this action became immaterial when all the living male dynasts ended up predeceasing Grand Duke Vladimir, who died in 1992. In Madrid on 22 September 1976, Maria married Prince Franz Wilhelm of Prussia, her third cousin, once-removed. He is a Hohenzollern great-grandson of Germany's last emperor Wilhelm II and a great-great-great grandchild of Victoria, Queen of the United Kingdom.
Franz Wilhelm converted to the Orthodox faith prior to the wedding, taking the name Michael Pavlovich and receiving the title of a Grand Duke of Russia from Maria's father. The couple separated in 1982, a year after the birth of their only child George Mikhailovich, who had been granted the title Grand Duke of Russia at birth by his grandfather Vladimir. Following the divorce on 19 June 1985, Franz Wilhelm reverted to his Prussian name and style. The photograph has also been signed in pencil by the photographer Ramsey & Muspratt of Oxford.
Maria 1972 Size: 25.5 x 16.5 cm approx. Photos form part of the description. This item is in the category "Collectables\Autographs\Uncertified Originals\Historical". The seller is "bibelotslondon" and is located in this country: GB.
This item can be shipped worldwide.
Sub-Type: Royalty
Type: Historical
Signed: Yes
Country/Region of Manufacture: Russian Federation
Object: Signed Christmas Cards

---