Antique Imperial Russian Calling Card Bolshevik Murdered Grand Duke Paul Romanov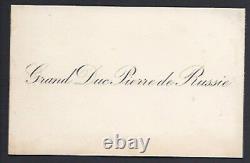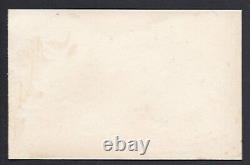 Bibelotslondon Ltd is a UK registered company based in London Bridge dealing in ephemera and curiosities from Britain and around the world. Our diverse inventory is carefully chosen and constantly evolving.
We work very hard to offer the highest quality works at competitive prices. Our inventory is listed online, and we strive to keep our website completely up to date, so our customers can easily check availability. We believe in offering clients items that are unique and rare for aficionados of the antique and collector's world.
Bibelot is a late nineteenth century word derived from the French word bel'beautiful', meaning a small item of beauty, curiosity or interest. The word ephemera is derived from the sixteenth century Greek word ephmera meaning a printed or hand written paper not meant to be retained for a long period of time. From the collection of Richard and Mary Winslow, English aristocrats who had the Villa Winslow in Cannes during the 1890s and were friends with aristocrats and royals from all over the world. Mary was a great beauty and had by family traditon once been a mistress of the Prince of Wales, later King Edward VII. Cannes became a popular holiday destination with aristocrats from all over the world.
The British and Russian particularly enjoyed their times there. Queen Victoria visited in 1890 and Tsar Nicholas II in 1905/6, staying at the Villa du Parc. It was in Cannes in 1898 at the Villa Kasbek that the Prince of Wales met his mistress Mrs Alice Keppell. Cannes had been popular with the Romanovs since the 1890s. Grand Duke Michael Mikhailovich in 1891 fell in love and married Countess Sophie von Merenberg.
She was the daughter of Prince Nikolaus Wilhelm of Nassau and his morganatic wife, née Natalie Alexandrovna Pushkin, a member of the minor Russian nobility. Sophie's maternal grandfather was the renowned poet-author Alexander Pushkin; through him, she had black African ancestry as a direct descendant of Peter the Great's protégé, Abram Petrovich Gannibal. The grand duke met Sophie when he saved her from a horse that had run away with her. He did not bother to ask for the necessary permission for the marriage from the Tsar or his parents because he knew it would not be granted.
They lived at the luxurious Villa Kazbek with their children. Grand Duke Paul was the sixth son and youngest child of Emperor Alexander II of Russia by his first wife Empress Maria Alexandrovna. He was a brother of Emperor Alexander III and uncle of Nicholas II, Russia's last monarch. He entered the Russian Army, was a general in the Cavalry and adjutant general to his brother Emperor Alexander III, and a Knight of the Order of St Andrew.
In 1889, he married Princess Alexandra of Greece, his paternal first cousin once removed. The couple had a daughter and a son, but Alexandra died during the birth of their second child. In his widowhood, Grand Duke Paul began a relationship with Olga Karnovitsch, a married woman with three children. After obtaining a divorce for Olga and in defiance of a strong family opposition, Grand Duke Paul married her in October 1902.
As he contracted a morganatic marriage with a divorcée in defiance of the Tsar's prohibition, Grand Duke Paul was banished from living in Russia and deprived of his titles and privileges. Between 1902 and 1914, he lived in exile in Paris with his second wife who gave him three children. In the spring of 1914, he settled back in Russia with his second family. With the outbreak of World War I, Grand Duke Paul was appointed in command of the first corps of the Imperial Guard. Afflicted with ill health, he served only intermittently.
During the last days of the Tsarist period, he was one of the few members of the Romanov family who remained close to Tsar Nicholas II and his wife Alexandra Feodorovna. It fell upon Grand Duke Paul to informed Alexandra of Nicholas II's abdication. After the fall of the Russian monarchy, Grand Duke Paul initially remained living at his Palace in Tsarskoe Selo during the period of the provisional government. With the Bolsheviks ascending to power, his palace was expropriated and eventually he was arrested and sent to prison.
In declining health, he was shot by the Bolsheviks with other Romanov relatives in the courtyard of the Peter and Paul Fortress in January 1919 and his remains were thrown into a common grave. Photos form part of the description. This item is in the category "Collectables\Historical Memorabilia\Royalty Collectables". The seller is "bibelotslondon" and is located in this country: GB. This item can be shipped worldwide.
Royal: Tsar Nicholas II
To Commemorate: Royal Visit
Type: Calling Card
Royal/ Reign: Tsar Nicholas II
Royalty: Russian Royalty
Manufacturer: Russian Imperial Court
Theme: Royalty
Features: Antique
Country/Region of Manufacture: Russian Federation
Vintage: Yes

---