Antique Imperial Russian Antique Signed Letter Reforms Prince Nicholas Orloff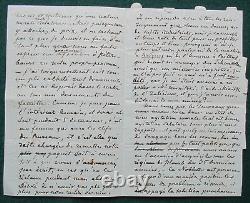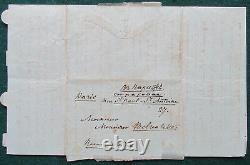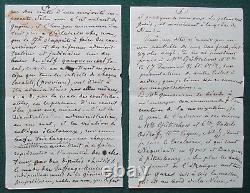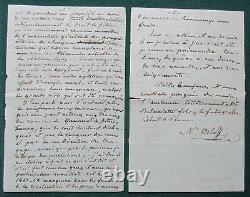 Bibelotslondon Ltd is a UK registered company based in London Bridge dealing in ephemera and curiosities from Britain and around the world. Our diverse inventory is carefully chosen and constantly evolving. We work very hard to offer the highest quality works at competitive prices. Our inventory is listed online, and we strive to keep our website completely up to date, so our customers can easily check availability. We believe in offering clients items that are unique and rare for aficionados of the antique and collector's world. Bibelot is a late nineteenth century word derived from the French word bel'beautiful', meaning a small item of beauty, curiosity or interest. The word ephemera is derived from the sixteenth century Greek word ephmera meaning a printed or hand written paper not meant to be retained for a long period of time.
19 March 1862 at 1h St Petersburg 1/13 March 1862 R. He had just resigned from his post at the Management Board! But since you deem them important, and not knowing what I was to do, all the more so since you make me wait for the next appearance in Petersburg in your person, I put your documents into a sealed letter, and placed them in the box with all my family documents. Sorry that I could not do more to be of service to you. Why do I no longer hear talk of neither the brick machine nor the concrete man, who had sent me some samples as well as a printed xxx, who did not do it, which greatly bothered me, since I had avowed to speak of it to Mr Troinitzki, the Assistant to the Ministry of the Interior, and since I had to cement to the best of my ability?
You will know from the newspapers that we have lived in a state of considerable moral turmoil all this winter, a healthy turmoil in more than one respect. Aside from some intemperance of language in the xxx, due to the game of political tact that we had the opportunity to acquire under the Regime of Lead of the past 35 years, the Nobility has succeeded in positively fixing the tortures of the problem to be resolved, and has supported the next solution by the vote with a significant majority. In my opinion, much has been gained, and the horizon begins to appear much brighter for you, since the government is preparing to make concessions and administrative and legal reforms based on local self-government, that is, by admitting in principle that all the interests of each locality, (province), have the right to govern themselves, that is, by the xxx of the taxpayers, in the person of a council they have themselves elected. In a word, it is administrative decentralisation, and the creation of electoral colleges, on a very broad basis, since each commune and each municipality will have the right to be represented at the voters' assembly by deputies chosen by way of Universal Suffrage, independently of the generality of land owners, nobles by name, who if in fact have possessed a property xxx will be voters, independently of the right to xxx that they xxx like xxx of the general assembly of landowners of each province, which must replace the current triennial committees of the Nobility alone.
You see that for a first step, and this is a giant one, made in 2 months, without any other turmoil than an effort of moral energy that is rather conservative in its xxx, despite the great words that have been uttered. I speak about it with much more complacency since having actively taken part in the xxx works of the Government of Petersburg, which are above all distinguished and by the languor of views and by the moderation of language, as well as by the legal precision of the conclusions, I had to and could study in depth what was said and done before my eyes and with my immediate participation. This winter from 1861-62 will be missing from the greats of civilisation and from my country's moral and political progress. The jealous ones have disappeared, and now by the grace of God! You tell me that you have not had news of your xxx or 89 roubles xxx.
However, I paid them to Mr Gütt. 1862, on presentation of your ticket to [o.], that I currently hold in my possession. With this, goodbye and farewell.
If I come to Paris this summer I will advise you. Please continue to send me your news. A thousand greetings and a warm handshake.
All my love to Mr Belaclette Junior, the future Marshal of France. Orlov He first adopted a military career, and was seriously wounded in the Crimean War. As a publicist he stood in the forefront of reform. His articles on corporal punishment, which appeared in Russkaya Starina in 1881, brought about its abolition.
He also advocated tolerance towards the dissenters. The reform effectively abolished serfdom throughout the Russian Empire. The 1861 Emancipation Manifesto proclaimed the emancipation of the serfs on private estates and of the domestic (household) serfs. By this edict more than 23 million people received their liberty.
Serfs gained the full rights of free citizens, including rights to marry without having to gain consent, to own property and to own a business. Household serfs were the least affected: they gained only their freedom and no land. The serfs were emancipated in 1861, following a speech given by Tsar Alexander II on 30th March 1856. The serfs living on Imperial lands, were emancipated later in 1866.
Size: 20.5 x 13 cm approx. Photos form part of the description. This item is in the category "Collectables\Autographs\Uncertified Originals\Historical". The seller is "bibelotslondon" and is located in this country: GB.
This item can be shipped worldwide.
Country/Region of Manufacture: Russian Federation
Type: Historical
Sub-Type: Royalty
Signed: Yes
Object: Signed Letters

---